BRIEF HISTORY OF PCHS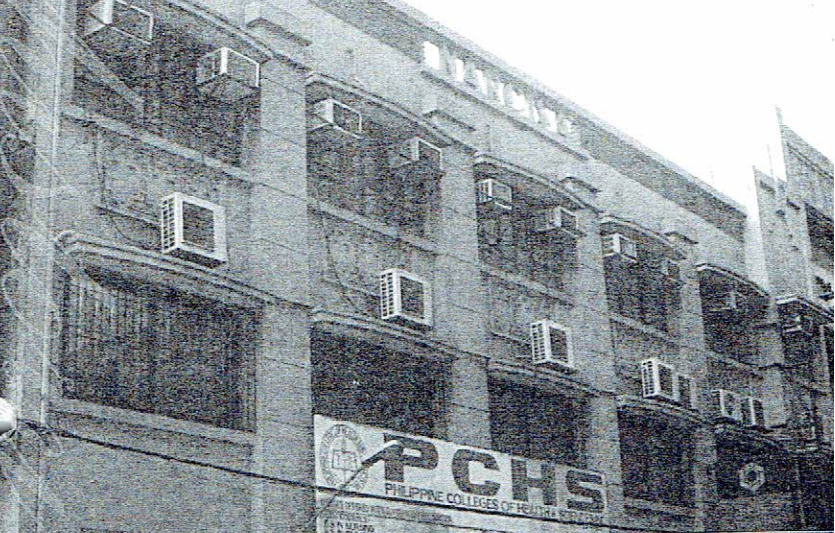 The Philippine College of Health Sciences. Inc. (PCHS) was born on February 1, 1993, the birthday of its first President and Chief Executive Officer (CEO), Dr. George C. Cordero.
The School was conceived as complimentary to Dr. Cordero's review center, the Institute of Review and Special Studies popularly known as INRESS REVIEW Center. PCHS first location was a 3-story rented building with 10 classrooms in Coramina's St. along Claro M. Recto Avenue, Manila. Dr. Cordero received his investiture as President in 1996.
PCHS opened its doors on June 1994 with 124 students. The first baccalaureate courses it offered are BS in Nursing , BS in Physical Therapy, BS in Occupational Therapy, BS in Radiologic Technology and BS in Psychology, Associate in Radiologic Technology (A.R.T) and Graduate in Midwifery (G.M). Its post-graduate courses include Master of Arts in Nursing (M.A.N), Master of Arts in Education (M.A.E.d), Master of Public Administration (M.P.A), Doctor of Education (Ed.D) and Doctor of Philosophy (PhD) On the succeeding years its student population reached the one thousand mark and it almost reached the three thousand-student enrolments.
As a testament to his passion and dedication in providing high quality and cost-effective education, Dr. Cordero transferred to his newly acquired building, the Doña Narcisa Building along Recto Avenue. All classrooms and offices are fully air-conditioned and with state-of-the-art laboratories, PCHS is considered young as an academic institution yet is has transformed the lives and influenced the future of thousands of students. Several PCHS students garnered top places in professional examinations and many are now occupying respectable positions in various private and government institutions both local and international.
PCHS recently acquired a 4-storey building with a total floor area of 4,788sq.meter located in 1880 cor. C.M. Recto Avenue and Severino St. This building has undergone major renovation and now housing College of Medical Technology , College of Pharmacy, and College of Physical Therapy.
VISION
The Philippine College of Health Science is A BASTION OF EXECELLENCE IN ALL FIELDS OF ENDEAVOR , NURTURING AND CULTIVATING HUMAN BEINGS INDOMITABLE SPIRIT IN PURSUIT OF SERVICE TO GOD AND DENIZENS OF THE WORLD.
MISSION
THE PCHS TAKES UPON ITSELF THE MISSION TO PROVIDE AN EQUITABLE LEARNING CONTINUUM WHERE ALL THE STAKEHOLDERS HAVE GREATER ACCESS TO QUALITY EDUCATIONAL OPPORTUNITIES.
PHILOSOPHY
THE PHILIPPINE COLLEGE OF HEALTH SCIENCES Inc. AS AN EDUCATIONAL INSTITUTION BELIEVES IN PROVIDING EQUAL OPPORTUNITIES FOR ALL IN HONOR OF GOD.. THE INHERENT INTELLECT, WISDOM AND VALUES OF EVERY UNIQUE HUMAN BEING MUST BE HARNESSED TO THE FULLEST IN ORDER TO BE A DYNAMIC , COMPETENT AND RESPONSIVE MEMBER OF A DIVERSE SOCIETY . 
            WE ADHERE TO THE CORE VALUES OF BEING:
            G – OD LOVING
            C – ARING
            C – OMPASSIONATE
            P – ATIENT
            C – OMMITTED
            H – ONEST AND
            S – ELF – LESS SERVICE
GOALS
THE GRADUATES OF PHILIPPINE COLLEGE OF HEALTH SCIENCES SHALL BE HOLISTICALLY DEVELOPED IN ORDER TO PERFORM THEIR DUTIES AND RESPONSIBILITIES TO THEIR FAMILY, COMMUNITY AND SOCIETY WITH COMPETENCE AND EFFICIENCY.